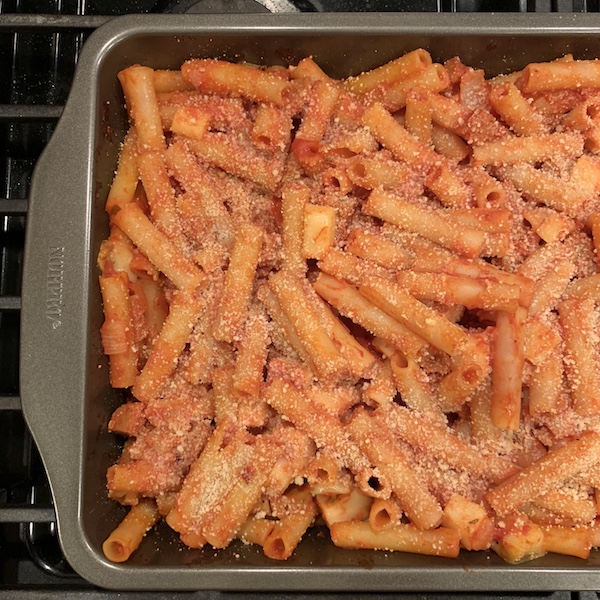 av_timer
PREP TIME
20 min
access_time
COOK TIME
25 min
Ingredients (8 servings)
1 tbsp olive oil
16 oz ziti
13 oz italian sausage (vegan), diced
1 yellow onion, diced
2 garlic clove, minced
1 tsp red pepper flakes
1⁄2 cup basil (fresh), chopped
1 tsp salt, or to taste
30 oz tomato sauce
1 tsp black pepper, or to taste
7 oz mozzarella (vegan), cubed
1⁄4 cup parmesan cheese (vegan)
Instructions

Preheat oven to 350°F.
Bring a pot of salted water to a boil. Cook pasta al dente.
While the pasta cooks, heat the oil in a large skillet over medium heat.
Add the onion and garlic. Cook until the onion is translucent.
Add sausage to the skillet and cook until slightly browned.
Add the tomato sauce to the skillet and stir together with the onion and sausage.
Add the salt, black pepper, and red pepper and simmer for 10 minutes over low heat.
Drain the pasta and return to pot.
Add the tomato sauce to the pasta, along with the cubed mozzarella and basil. Stir together to mix.
Pour the pasta into a 12" X 9" baking dish and sprinkle with the parmesan cheese.
Cover baking dish with foil and bake for 15 minutes.
Remove foil and bake for another 10 minutes.
Remove from oven and serve.
Nutrition Facts
Amount per serving
453 Calories (kcal)
28 Total Fat (g)
65 Total Carbohydrate (g)
6 Dietary Fiber (g)
7 Total Sugars (g)
22 Protein (g)