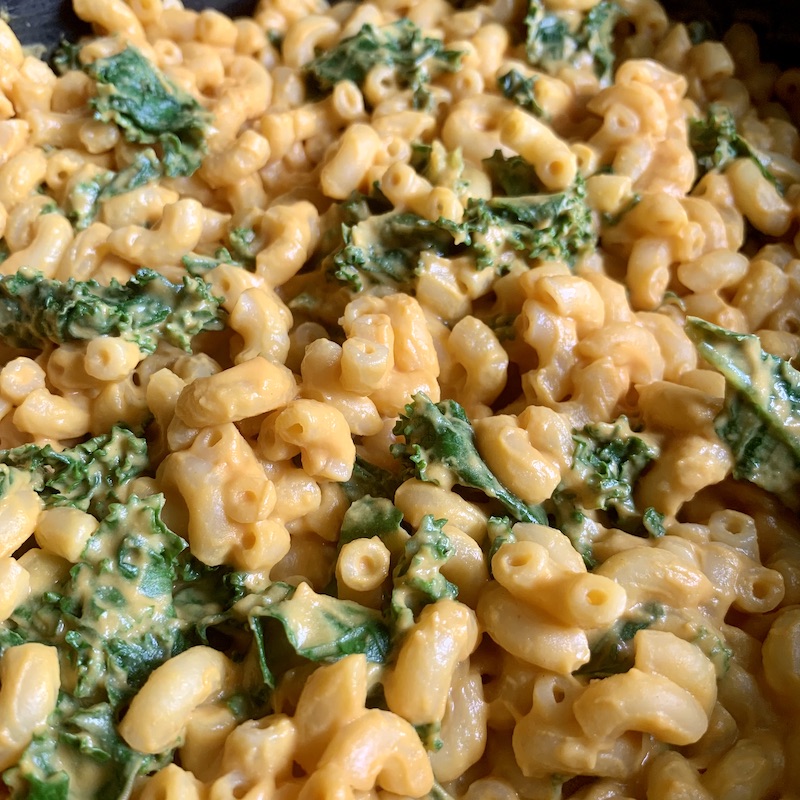 access_time
COOK TIME
1 hr
timer
TOTAL TIME
1 hr 5 min
Ingredients (6 servings)
16 oz elbow macaroni
1 cup hemp milk
1 tbsp dijon mustard
1⁄4 cup nutritional yeast
2 tbsp tamari
1 tbsp olive oil
1 tsp salt, or to taste
1 tsp black pepper, or to taste
2 cup kale, chopped, stalks removed
1 large sweet potatoes, peeled
2 garlic clove, peeled
Instructions

Preheat oven to 400°F.
Poke holes in sweet potato and wrap in aluminum foil. Bake for 45-60 minutes.
While the sweet potato bakes, cook macaroni according to package instructions. Drain and return to pot.
Remove sweet potato from oven. Once cool, remove aluminum foil and peel the sweet potato.
Place peeled sweet potato in blender with hemp milk, garlic cloves, dijon mustard, nutritional yeast, tamari, olive oil, salt and pepper. Blend until smooth.
Heat 1 tbsp of olive oil in 12-inch skillet under medium-high heat. Cook kale until wilted, about a minute.
Add sauce from blender along with cooked kale to the pasta pot and fold together.
Serve and enjoy!
Nutrition Facts
Amount per serving
334 Calories (kcal)
4 Total Fat (g)
62 Total Carbohydrate (g)
5 Dietary Fiber (g)
2 Total Sugars (g)
11 Protein (g)